Our Redeemer's Lutheran Church is located on and owns approximately 18 acres of land. It has been our plan to find mission partners with which to develop this land in a way that serves our mission and our community. In the coming months we will be hosting meetings to explore these opportunities and assess the viability of development plans.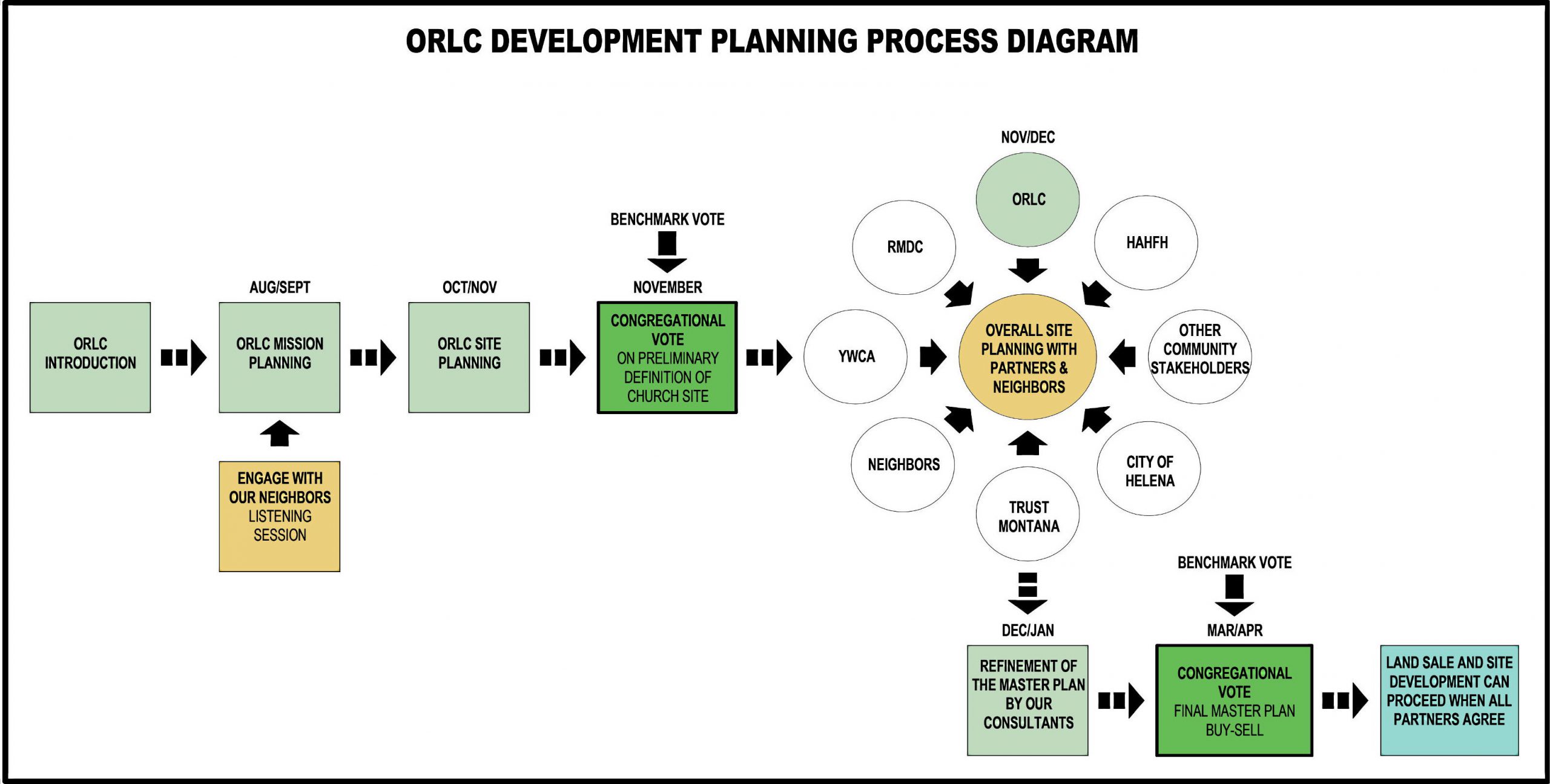 Listening Session with Our Neighbors
Wednesday, September 8th @ 7:00pm
In the sanctuary or online (Zoom link forthcoming)
Open to the congregation and our neighbors
Masks required for in-person attendees
Mission Priorities meeting with Congregation (Session 1)
Sunday, September 19th @ 9:45am
In the Great Room
Masks required for in-person attendees
Mission Priorities meeting with Congregation (Session 2 – a repeat of Session 1 meeting)
Wednesday, September 22nd @ 7:15pm
In the Great Room
Masks required for in-person attendees
Our Redeemer's Lutheran Church, along with our partners; The City of Helena, Helena Area Habitat for Humanity, YWCA, Rocky Mountain Development Council, and Trust Montana were granted $40,000 of planning money through the Community Development Block Grant (CDBG) Program. This, along with partner matching funds and City funds of $28,000, are funding a development planning process for our land. This process will help determine partner and congregational goals, community and development goals, and the general feasibility of developing the property around the church.
To lead ORLC and our partners through this process, the consultant team of Mosaic Architecture and SMA Architects, along with consultants Stahly Engineering and GL Development have been hired. A kick-off meeting with the congregation was held on Sunday, July 25th during which the consultant team and our planning partners were introduced. Leading the planning process from Mosaic Architecture are ORLC members Jeff Downhour and Gretchen Krumm and from SMA Architects, member Tim Meldrum. Both firms have extensive experience working with public planning processes, master plans, and CDBG-funded planning and construction projects.
Each of our partners shares in the mission vision of providing affordable, safe housing for people in our Helena community, but they each target services to a different sector of our community.
The YWCA specifically serves women and children. They are seeking to create transitional housing for women who have graduated from their intensive 6-month sober living program to support them in After Care while they find suitable housing. This facility would provide 18-24 months of housing for these women and their children in a tobacco, alcohol, and drug free living environment where they continue to receive supportive services and gain the financial independence required for more stable housing. The YWCA is also opening a trauma-informed daycare this fall to specifically provide services to children who have experienced trauma. Their staff are specifically trained in the environment and therapy needed to nurture these children.
Rocky Mountain Development Council develops, owns, and manages affordable rental housing. They typically leverage several different funding sources to subsidize the financing of their projects, including Low Income Housing Tax Credits (LIHTC), CDBG Housing grants, Housing Trust Fund (HTF), and Home Investment Partnerships Program (HOME) grants. RMDC's current properties range in size from 8 to 85 units and its total portfolio includes 382 units in the tri-county area. Tenants must income-qualify to rent from RMDC. RMDC provides on-site management and maintenance of their properties.
Helena Area Habitat for Humanity builds housing for income-qualified people who can qualify for a loan for a reduced-cost home. They leverage material, labor, monetary donations, and grants, as well as a mutual self-help programs in which neighbors help one-another to build their homes to reduce the sale price of the home to the qualifying homeowner.
Trust Montana is a Community Land Trust. They hold land in trust for affordable housing and establish ground leases with the final building owners. They manage any future resale or property transfer to maintain compliance with the affordable housing land trust. Resale of buildings are restricted to income-qualified buyers and price escalation is capped to insure long-term affordability of the property.
The City of Helena is our grant sponsor. They recognize a desperate need for more affordable housing in our community and are taking steps to encourage the development of such, including creating an Affordable Housing Trust Fund and a potential fee waiver for any project serving a population at or below sixty percent of the area median income. Their support and sponsorship of this planning effort is yet another indication of their commitment to solving this community problem.
The planning process will begin with a church-wide effort to establish future mission priorities for ORLC so that the church can define what land they want to retain for future church development. Once mission priorities are established and analyzed, a church site planning effort will help to define a future property boundary.
We will kick-off this mission planning effort first with a Listening Session with our neighbors. As we assess priorities for our church mission, it will be important to hear what our neighbors think our mission in this place should be. If we are indeed "reaching out to serve", we should understand the needs of those we are reaching out to.
Please plan to attend a Listening Session with ORLC and its Neighbors, Wednesday, September 8th at 7pm. In-person and virtual options will be provided.
This listening session will be followed by two identical workshops at which we will be seeking your input on mission priorities. Please also plan to attend one of the following identical workshops to help evaluate and rank possible future mission development on the ORLC site.
Sunday, September 19th at 9:45am
or
Wednesday, September 22nd at 7:15pm
After the proposed church boundary is established, ORLC will engage with our partners, neighbors, and other community stakeholders to master plan the development beyond the church property boundary. Questions such as suitable density, housing type and variety, aesthetics, neighborhood amenities, funding, trails and connections, landscape and sustainability will all be discussed and analyzed to reach the highest and best solution for the community and the neighborhood.
Please feel free to reach out to a member of the ORLC Development Team or our consultant team with any questions, comments, or concerns.
Development Team
Jerry Hoover: [email protected]
Bonner Armstrong: [email protected]
Cody Salo: [email protected]
Craig Erickson: [email protected]
Herb Kulow: [email protected]
Jan Martin: [email protected]
Nelson Bock: [email protected]
Consultant Team
Gretchen Krumm: [email protected]
Jeff Downhour: [email protected]
Tim Meldrum: [email protected]